Yachting Events
If you want to feel like a VIP, there is nothing quite like attending yacht shows and yachting events. Thanks to our online calendar, you can browse all the upcoming events taking place in exclusive locations all around the world and discover how to get your VIP FGI pass.
Global Yachting Events
This superyacht events calendar profiles the top yachting events worldwide that you shouldn't miss, whether you want to charter a yacht during the Monaco Grand Prix or buy a new one at the Fort Lauderdale International Boat Show. From St. Barths to St. Tropez to Australia, these events allow you to revel in the glamorous yachting lifestyle with fellow owners and yachting enthusiasts at rendezvous and regattas worldwide.
Miami Boat Show
February 16, 2022 - February 20, 2022
Miami, Florida
Superyacht Challenge Antigua
March 8, 2022 - March 13, 2022
Antigua
Palm Beach Boat Show
March 24, 2022 - March 27, 2022
Palm Beach, Florida
MYBA Charter Show
April 25, 2022 - April 28, 2022
Barcelona, Spain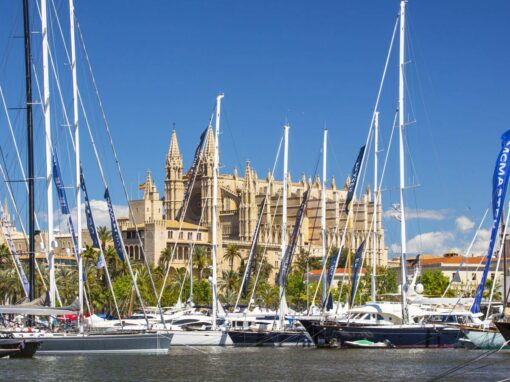 Palma Superyacht Show
April 28, 2022 - May 1, 2022
Palma, Spain
Mediterranean Yacht Show
April 30, 2022 - May 4, 2022
Nafplion, Greece
Cannes Film Festival
May 17, 2022 - May 28, 2022
Cannes, France
The World Superyacht Awards
May 20, 2022 - May 21, 2022
London, U.K.
Monaco Grand Prix
May 27, 2022 - May 29, 2022
Monaco
Thailand Yacht Show and Rendezvous
June 9, 2022 - June 12, 2022
Phuket, Thailand
Superyacht Day
June 23, 2022
Nice, France
The Superyacht Cup Palma
June 29, 2022 - July 2, 2022
Palma, Spain
Pebble Beach Concours d'Elegance
August 21, 2022
Pebble Beach, California
Venice Film Festival
August 31, 2022 - September 10, 2022
Venice, Italy
Maxi Yacht Rolex Cup
September 4, 2022 - September 10, 2022
Porto Cervo, Sardinia
Cannes Yachting Festival
September 6, 2022 - September 12, 2022
Cannes, France
Genoa International Boat Show
September 22, 2022 - September 27, 2022
Genoa, Italy
Les Voiles de Saint-Tropez
September 25, 2022 - October 8, 2022
St. Tropez, France
Monaco Yacht Show
September 28, 2022 - October 1, 2022
Monaco
Fort Lauderdale International Boat Show
October 26, 2022 - October 30, 2022
Fort Lauderdale, Florida
USVI Charter Show
November 12, 2022 - November 15, 2022
St. Thomas, USVI
Art Basel Miami
December 1, 2022 - December 3, 2022
Miami, Florida
Antigua Charter Yacht Show
December 4, 2022 - December 9, 2022
Antigua
Caribbean Charter Yacht Show
December 8, 2022 - December 11, 2022
St Thomas, USVI